Case Study: Forney ISD — Herculean effort gets PreK–12 students back to in-person learning safely
Judy Webber knew she needed a miracle: 3,000 individual student desks in under two weeks during a global pandemic. That's what it would take for Forney Independent School District to begin its 2020 school year safely in person, with six feet of physical distance between students.
Thankfully, Chief Learning Officer Webber had a huge team of miracle workers ready to deliver the classroom desks.
Judy Webber
Chief Learning Officer
Help! Our district needs 3,000 desks in 10 days!
Challenges: Fast Growth + Global Pandemic
Forney ISD is one of the fastest-growing school districts in Texas. A few years back, it had around 8,000 students in PreK–12. Today, it includes 14 schools and more than 12,000 learners. While the district had been keeping pace with furnishing its learning spaces, the pandemic created a serious challenge last summer.
Like many districts, Forney had switched entirely to virtual learning after its 2020 spring break ended and kept that model through the remainder of the school year. What the 2020-2021 academic year would bring was anyone's guess. Would learning remain virtual? Move to hybrid learning? Return to in-person? Might some parents opt to home school?
District leaders anxiously waited for state and CDC guidelines and watched local COVID-19 case counts. It also checked with surrounding school districts. "We work really hard to align many of our processes," Webber added.
The Timeline
Here's how the story unfolded from late July 2020 to the start of the school year on August 17, 2020.
July 27: Notice to Resume In-Person Learning
Academic year, Forney ISD got the green light. It could offer face-to-face learning, if it could follow CDC guidelines and seat students six feet apart. That created a substantial furniture crisis for the district. Like most schools, it had gradually moved away from individual students desks to collaborative tables. Webber explained.
"We evaluated our classrooms and realized that we had student tables all over the district and at every grade level. All PreK, kindergarten, and most first- and second-grade classrooms used tables as an instructional model. Additionally, all art rooms, science labs, and innovative classrooms used tables instead of individual desks," she said. "And, our cafeterias were either large, round tables or long tables."
The district was committed to starting the new year with each student at a desk, six feet apart. But calculating the number of desks needed wasn't easy. Of its 12,400 students, how many would choose to continue virtual learning from home versus returning to in-person?
The school had to prepare for the highest number of returning students and factor in the existing desks on hand. For sure, they would need to replace all of the district's two-student tables with single-student desks. "I need a miracle."
Webber began by calling Mike Paris, education sales specialist with furniture dealer Business Interiors in nearby Irving, Texas. Forney ISD had purchased several classrooms of Smith System® furniture through BI earlier in the year, and Smith had become the district's standard for classroom furniture. So, it made sense to start there.
"Judy reached out and asked if we could 'perform a miracle for them," Paris said. "They needed over 3,000 individual student desks in about two weeks. I'd never had an order that large – and with such a quick turnaround."
July 30: 3,026 Desks Ordered
CARES funding was ready, and the district knew it could expedite purchasing through its membership in E&I Cooperative Services, a purchasing cooperative exclusively for education. But the other stars had to align. Thankfully, they did.
First, Forney was familiar with Smith System® desks, which expedited decision-making. The district was already using Smith System's adjustable-height Interchange® Diamond Desk in K–8 classrooms.
Second, Paris went right to Smith's top management to find out which of the company's individual classroom desks could meet Forney's lightning-fast deadline, during the company's busy season. Great news! Smith System could make it work. BI placed an order for:
---
2,376 adjustable-height Mini Diamond Student Desks (27" x 30.5" x 22"-34")
---
650 fixed-height Silhouette® Desks (20" x 27" x 29.5")
---
Forney chose casters for all desks, and the shape of the two desktop designs would make them easy to group together for the return of collaborative learning, post-COVID. The district also replaced some of its "large, behemoth teacher desks," so-named by Webber, with Smith's Cascade® Teacher Desks. Its compact footprint would allow more space for student desks.
---
August 10: First Delivery Arrives (1,200 desks)
Within only 10 days of placing the order, Smith System® delivered 1,200 desks to Forney's old gym (with no air conditioning in the middle of a Texas summer). BI had an onsite crew ready with an assembly line set-up-and-delivery system. As desks got assembled, district staff directed placement at the individual schools
August 17: First Day of School; Remaining Desks Arrive (1,800 desks)
A week later, the remaining 1,800 desks arrived. BI worked the first week of in-person school to assemble and distribute desks. The two-phase delivery approached worked well.
The school year launched with 50% of students returning to in-person learning, so the district didn't need all desks immediately. Every nine weeks, parents had a choice to keep their students virtual or return in person. As more students returned, schools were ready. They simply rolled out more desks. Currently, about 20% of the student body remains virtual.
And, Webber remains thrilled.
"We were able to keep our school open and keep our students six feet apart because of Smith Systems' quick turnaround and hard work. I can't thank them enough!" Although, she added, the PreK kiddos have struggled with desks and spacing itself. "So much of learning for them is social."
---
Webber's Advice for Other Districts
Have a Great Furniture Dealer

Establish a relationship with a great furniture dealer who can save you time and energy. "Business Interiors knew products, vendors and pricing."

Think Long-Term

Design innovation and versatility matter. Forney ISD knew it didn't want to purchase barrier screens, which would eventually end up in storage. To maximize their allotted CARES funds, the district wanted furniture they could use in the future, when classroom capacity and collaborative learning resumed.

Add Casters to Furniture

Add casters so that teachers can easily move desks around the school. "This is a game-changer and has allowed us to have safe cafeterias with students spaced six feet apart. We can quickly move the desks for PE overflow, too."

Invest in Extras

Keep a stockpile of adjustable desks. "We love Smith System's furniture. The flexibility of their products allowed us to buy a stash of desks and use them all over the district."
Webber said that Forney will soon transfer its original learning tables – currently in storage – back to elementary, art and science classrooms. The new student desks will replace many of the older desks in middle grades and the all-in-one desks in high schools.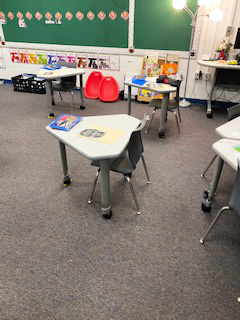 "Smith Saves the Day"
At Smith System®, we don't expect thanks for what we do. Our clients expect excellence in our PreK-12 education furniture design and service, and we deliver. But we really appreciated receiving a thank-you email from Judy Webber with the subject line, "Smith System® Saves the Day."
Without question, fulfilling a huge order takes a village, which Webber also recognized.
"Be sure and thank whoever helped us get the desks last summer. I always wonder if the people in the factories, or the truck drivers, etcetera, realize what a difference they made. BI and Smith System® kept our students and our teachers safe."
She happily reported that Forney ISD has had very few COVID cases among students this past year. And for that, Smith System® is most grateful.