How Technology is Shaping the Future of Learning
There's an undeniable digital transformation underway in K­­­–12 education. Its scope and pace are shaping the future of learning, teaching, and the physical spaces and furniture that support them, for sure.
That's the catalyst behind this three-part blog series devoted to the tsunamic effects of the K–12 digital transformation. We've aggregated top insights on three higher-level topics related to educational technology, or ed tech:
Part One: How Technology is Shaping the Future of Learning
Part Two: Leveraging Technology to Support Student Wellbeing­ –Coming Soon
Part Three: Designing Flexible Learning Spaces for Ed Tech Integration –Coming Soon
Throughout the blogs, we've included helpful classroom furniture tips. Afterall, buying new classroom furniture can be a big assist in capitalizing on ed tech's teaching and learning benefits. (See How School Classroom Furniture Can Improve Student Learning.)
Digital Transformation Train Picks Up Speed
The process of transitioning from traditional teaching practices to those that use digital technology isn't new, nor finite. It's been happening for decades, and the pandemic accelerated it. Remote and hybrid learning put pressure on school administrators, teachers, students, and parents to adopt ed tech options. Fast.
Post-pandemic, the gist of the digital transformation in K­–12 education remains the same. On a broad level, it's about leveraging ed tech to improve learning outcomes by creating:
Greater student engagement
Customized learning experiences
More efficient use of class time
This could mean anything, from virtual field trips for students to new software that streamlines classroom management for teachers. It's a fundamental shift, according to the academic experts who wrote the UNESCO (The United Nations Educational, Scientific and Cultural Organization) article, "The Digital Transformation of K–12: A Viewpoint."
"[This is] ... not a digital transition, but digital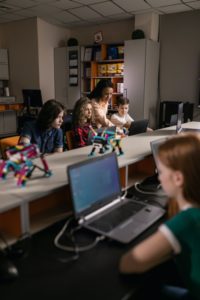 transformation. Words do count here, and what is being proposed is truly a dramatic and fundamental break with the past. Analog, paper-and-pencil technologies, while comfortable and effective – for some – are not the building blocks of the future."
EducationWeek recently said that schools benefiting most from the digital transformation will be open to change; have systems and structures in place that foster innovation, while ensuring that technology use is always relevant to the learning context. Proper, personalized teacher supports are essential, too.
A Deluge of Digital Tools
Today, educators are inundated with ed tech options. Granted, some are in the early adoption phase [see this archived bog, Virtual Reality in the Classroom.] But remember, those contraptions called computers and cellular phones were once tech infants, too!
There are now entire "smart" or tech-driven classrooms. They most likely include interactive whiteboards; assessment software programs that test students' understanding of material covered in class; online instruction (live or on-demand), and parent communication platforms.
One acronym for the range of digital technologies encompassed by the term "digital" is SMAAC:
At a minimum, 1:1 devices allow students (and teachers) to quickly access information and search for extra materials in real-time or on-demand at a later time.
Five Ways Technology is Reshaping Learning and Teaching
Though the tools (and their cost) vary greatly, experts agree that digital transformation tools are moving teaching in a learner-centered direction. Here's how.
Personalized Learning
Data-driven software is allowing teachers to track specific strengths, interests and needs of each student; adaptive learning technologies are letting students take ownership of their learning and progress at their own pace.
Differentiated and Individualized Instruction
Students learn at different paces and have a variety of learning processes. Ed tech tools let teachers tailor the curriculum to facilitate learning to groups of students or individual students. For example, ed tech software can make instruction more interactive, simplified or challenging. This approach benefits all learners, from those struggling to the gifted and talented.
Democratized Learning
The growing footprint of ed tech means schools can now use online resources and extend those learning benefits to students who would otherwise not have access. Instead of relying on physical infrastructure, e-platforms (like virtual tutors) can be accessible from anywhere. This means more opportunities for underserved and remote areas. And, neurodiverse students or students with physical disabilities have equal access, thanks to modified tech options.
More Immersive and Engaging Learning
A prime example of this is the metaverse, which education experts believe will – and, in some cases,  already – have a huge impact on learning. Vriti Saraf, founder and CEO of k20 Educators, a global social learning community, explains that the metaverse is "a virtual version of everything you can do in real life." She gives this example, if teaching about the human body.
Limitless Collaborative Learning
As ed tech improves, collaboration can unite students from around the world. It can allow for cross-cultural exchanges and have kids who can't physically attend school work remotely with their peers. That's a big boost for personal, interpersonal and cognitive skills growth.
Classroom Furniture Can Foster the Digital Transformation
Creating learning spaces that support the digital transformation require big-picture thinking. It's about curating flexible environments for ed tech's benefits to flourish.
One ed tech company explained, "There are many ways that schools can ensure they are making the most of [the] digital transformation. Teachers must be able to integrate technology into their teaching styles ... administrators need to create an environment where technology can be used effectively across all areas of the school."
Smith System's K-12 furniture masters that. It includes innovative pieces that help ensure devices and internet access are available when and where students need it. A good example is Smith System's new Flowform® Learn Lounge.
The product line includes everything needed for ed tech learning. There's durable soft seating (single or double) with the same dimensions of an ergonomically designed student chair. Various tables and ottomans – all with optional surface power – give students comfortable work surfaces. Together, the curves of the organically shaped Flowform pieces support more comfortable positions for working on devices. Flowform also includes partial privacy screens.
For a more traditional sit with highly versatile tables, Smith System offers the Numbers™ suite of chairs and tables for K–12 schools. The chairs deliver ultimate comfort, quality and value in an  appealing designs for all students.
Lastly, to keep ed tech tools (tablets, laptops, headsets, goggles, etc.) organized and secure, there's Flowform or Cascade®  classroom storage options.
What's Next for Digital Transformation in Education?
 Historically, learning technology has been developed reactively, deployed to solve specific educational challenges. EdSurge media said that's changing.
"[The] tools have become a more proactive solution, providing innovative ways for schools to evolve alongside the changing needs in education and enabling teachers to connect with and engage more learners than ever before — wherever and however learning may be happening."
What will that look like for educators? For one, they use technology to achieve higher levels of engagement throughout the learning process. As costs go down, look for more immersive technologies, namely, augmented reality (AR) and virtual reality (VR) and, later on, extended reality (XR).
Keep the Ed Tech Conversation Going
Learn more about the digital transformation in K–12 education and the importance of buying new classroom furniture to leveraging education technology. Contact us today and/or request a free catalog in digital or print.
Resources
 "Technology Tension: Why Isn't Every School Pushing Digital Learning to the Next Level?" Education Week virtual panel discussion. Oct. 19, 2022.
https://edly.io/blog/how-ed-tech-is-transforming-k12-education/
https://edtechmagazine.com/k12/article/2022/06/metaverse-already-here-and-k-12-schools-are-using-it-education
https://mgiep.unesco.org/article/the-digital-transformation-of-k-12-a-viewpoint
https://www.compnow.com.au/it-knowledge-base/digital-transformation-in-education/
https://www.edsurge.com/research/guides/how-is-technology-shaping-the-future-of-k-12-education
https://www.edutopia.org/article/handy-framework-choosing-edtech
https://www.k12blueprint.com/sites/default/files/SHI-K12BP-Embracing-Transformation.pdf
https://www.softermii.com/blog/the-impact-of-digital-transformation-in-education-sector