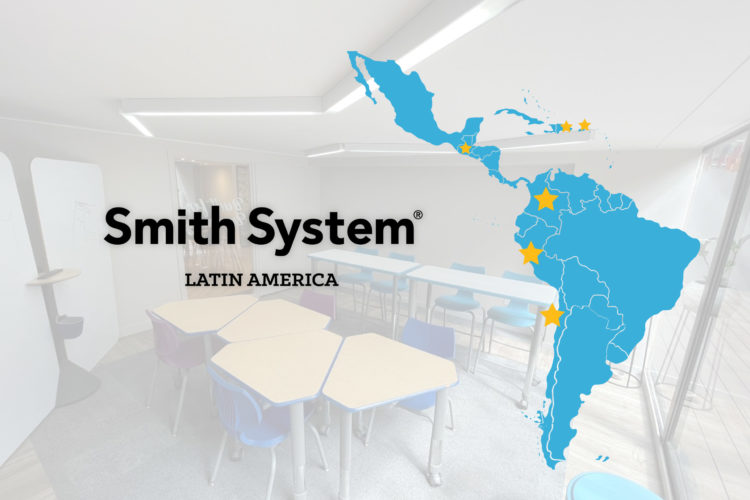 Leaping into Latin America: Smith System Expands Furniture Footprint
Every day, on every continent, teachers and students are together on a learning journey. Smith System believes the opportunities to inspire both are endless, especially with innovative, insights-driven school furniture. 
With that in mind, educational furniture suppliers Smith System and its parent company, Steelcase, have announced the designation of six new Premier Dealer Partners. Each will bring integrated furniture solutions to learning environments in key regions of Latin America: The growing education markets of Colombia, Dominican Republic, Guatemala, Peru, Chile and Puerto Rico. 

Delivering the Synergy of Furniture Expertise + Regional Insight
Premier Dealer Partners around the world work closely with Smith System and Steelcase teams to understand the larger trends in learning and the individual needs of schools. The six new dealers in Latin America will combine their knowledge of regional education stakeholders with Steelcase and Smith System's collective expertise in quality classroom furniture, leading-edge design, and dependable delivery. 
Mark Walters, sales manager with Smith System's international and GSA division, explained how, collectively, Smith System, Steelcase and regional dealers can improve student learning across Latin American. 
"We're extremely excited about the benefits we can provide this education market. By combining our user insights and innovative solutions with the design and project management expertise of our local partners, we can help solve the unique challenges of Latin American schools in innovative and unexpected ways."  
Advancing Learning Equity
Since 1905, Smith System has created quality furniture solutions – from ergonomic school chairs, student desks and classroom tables, to modern makerspace classrooms, STEM or STEAM labs, and libraries. Equally important, the company has guided school administrators and educators in how to buy school furniture that maximizes quality, functionality and comfort with affordability. [See 10 Steps to Buying School Furniture.]  
Smith System's merger with Steelcase in 2018 greatly expanded Smith System's ability to bring its "Built for Learning" mindset to educational environments beyond the U.S. and traditional K–12 settings.  
"We've seen how the right tools can spark inspiration and advance equitable learning," Walters said. "Expanding our global footprint will bring a level of service and product design to help support deserving students and teachers, alike."  
Each of the new Premiere Dealer Partners is uniquely positioned to outfit schools and classrooms with innovative product solutions. The new dealers are: 
Creating Engaging Learning Spaces in Latin America and Beyond
Above all, our team is committed to creating spaces that encourage engagement, collaboration and well-being. That holds true for students and the communities that surround the most important of institutions – our schools – no matter what continent they inhabit. 
Together, we look forward to sharing our deep insights with schools in Latin America. We'll be providing published literature, experiences and events, and as always, innovative product solutions that inspire 21st Century learning. 
 Is your school searching for innovative school furniture? See our Resource Library for helpful tools and download our latest furniture catalog here.