The Power of Choice–Platinum & Clear Totes Now Available
Organize Your Classroom with Smith System's New, Solid Storage Totes
Storage bins, boxes, totes or trays. No matter what they're called, these compact classroom organization tools provide big solutions. So much so that decreasing visual clutter in learning spaces can actually increase learning outcomes.
With that in mind, Smith System has changed its versatile line of Cascade® Totes for its classroom storage units and select student desks and teacher desks. Beginning this spring, schools will have not one, but two, options in tote aesthetics: Either the clear plastic or our newest non-see-through, platinum solid gray finish.
Each option provides a different degree of decluttering – basically, to see or not to see the corralled contents. Regardless, both transferrable tote choices help teachers conquer classroom storage, as well as storage needs for busy makerspaces, science labs, art rooms, media centers, etc.
Bonus: The Gratnells' platinum totes have already been in use for decades in education environments in nearly 70 countries worldwide. That helps Smith System's school furniture better meet global standards for 21st century classroom and furniture design. [See Q&A at the end of this blog.]
Why Promote Totes?
Improved Learning Research has found that students in organized and structured classrooms demonstrate more on-task behavior and higher academic achievement. That's not surprising. Adults know how chaotic it feels having a messy workplace or home. It can be overwhelming. Classrooms are similar.
As one teacher said, "A disorganized classroom can pull a student's attention to irrelevant details and interrupt their ability to sustain focus."
A Focused Formula: Out of Sight, Out of Mind
Every teacher has their own approach to classroom and materials management. Some educators run a tight ship; others, not so much. Yet a decluttered classroom offers several advantages that can improve focus and, in turn, learning.
Create Less Distraction
Visual clutter is visually demanding for our brains. An orderly classroom reduces distraction and, likewise, brain drain. That helps students and teachers focus on the current activity or assignment. Plus, better organization leaves more time for learning.
Professor Peter Barrett was lead investigator on the Clever Classrooms: Education design for learning report. It was a large study of school buildings and the impact of the pupils in them, done by the University of Safford in Manchester, England. The comprehensive effort yielded "Top 10 Ways to Innovate the Learning Space." Among the findings was the importance of managing clutter.
"Visual complexity is another level of stimulation, and it should be in the middle. Not too busy. Not too boring. This means [teachers] need to ... keep about 20 to 50 percent of a wall clear, or it can look very chaotic," Barrett said.
In other words, stow papers rather than staple, tape or pin to walls. Stash away bigger items, rather than stack on shelves and floors.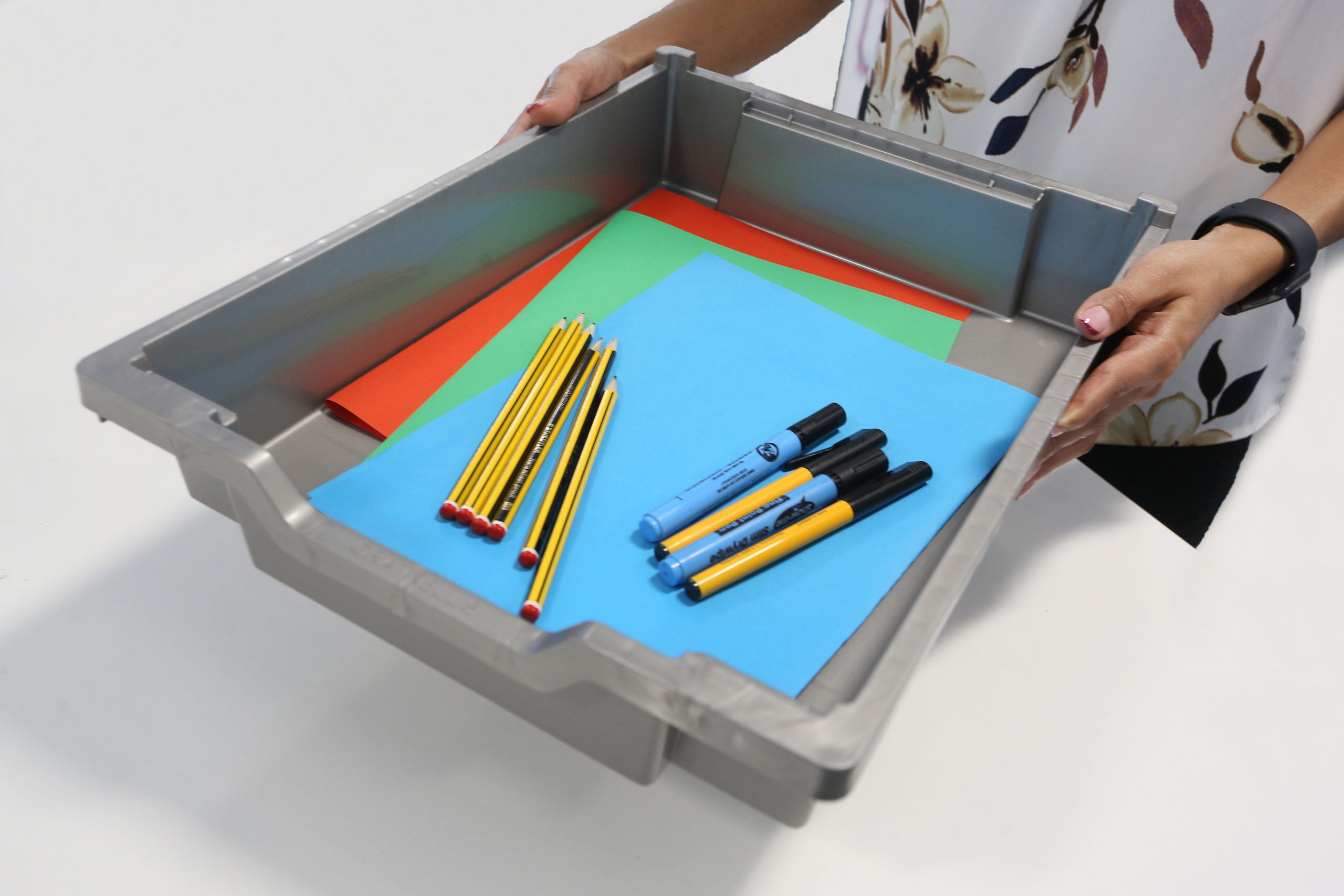 Accommodate Students with Learning Differences
A well-organized classroom creates a more equitable learning space for neurodivergent students with learning differences. That might include autism spectrum disorder (ASD) and ADHD, as well as anxiety or even strong visual learners prone to distraction. These students often perform better with minimal visual (and auditory) clutter.
That's according to Reading Rockets, a national public media literacy initiative. An article on its website equated the unorganized classroom to a community bulletin board plastered with notices and ads. When students with ASD are bombarded with too much stimulus, processing may slow down, or if overloaded, stop completely.
Students presented information in an orderly fashion and in a less cluttered space, are much more likely to read and digest information.
Role model organization skills for students
Executive functions, such as judgment, prioritizing and critical thinking do not come natural to students. They have to learn them. The same is true for organizational skills. And students who learn them at a younger age are more likely to carry those lessons into high school, college and careers.
Smith System's mobile Cascade® Storage units, Flowform® Curved Storage, and Flowform® Straight Storage open shelves can show students the benefits of staying organized.
What Teachers Say about Classroom Organization
Even Benjamin Franklin believed in the power of being organized. He famously said, "For every minute spent in organizing, an hour is earned." Here are online comments made by today's teachers about why classroom storage is an essential part of overall classroom management.
"Everything in the classroom should have a home. Homes can be cabinets, boxes, bins, drawers, folders … anything that gives an item a place to 'live.'"
"Organized classrooms lead to a clearer headspace for teachers and less visual stimulation (umm … distraction!) for those kiddos."
"Classroom organization is important because it allows you to have more time, space, and energy to focus on the things that truly matter in your classroom – your students."
"Once you learn how to be an organized teacher, you are going to free up so much time and mental capacity to spend on things like lesson planning, grading, interacting with students and creating engaging lessons."
"When things in our classroom have a designated home, students take better care of the resources. We know exactly where to find them, and it adds a sense of calm to our learning spaces!
Q&A on the New Platinum Totes
Below are quick answers to questions we're receiving about the new totes.
When will the new totes be available?
Ready to ship in Spring 2023.
What are color and sizes options for the new totes?
At this time, the new totes are available in platinum (fastest shipment) and clear (longer lead time) finishes. There are three standard-width options and one extra-wide:
17"d x 12 ¼" w x 3"h
17"d x 12 ¼"w x 6"h
17"d x 12 ¼"w x 12"h
15 ¾"d x 18 ½"w x 3"h
What materials are the new totes made of?
A  fully recyclable polypropylene that's safe, light-weight and easy for kids to transport and put back in place.
What is the warranty?
Smith System offers a lifetime replacement warranty on all totes.
We're Ready to Help You Store More
If you're looking for innovative, efficient ways to organize your school or learning spaces, contact us. You can also request our free catalog in digital or print.