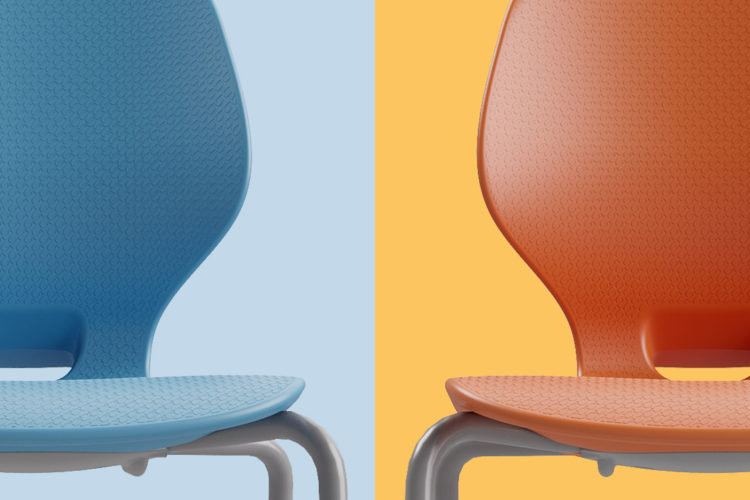 Behind the Design: Numbers™ Chair and Desk Suite
Numbers™ Chair + Desk = Smart Solutions for Schools Worldwide
An interview with the designers behind Smith System's new value-driven, yet stylish, furniture suite that also meets global requirements
Numbers™ chairs and desks are calculated for comfort and aesthetics that appeal to K–12 students everywhere.
To get the scoop, we spoke with Roger Carr and David Williams of Radar Design, the European design team behind Numbers™. Radar also designed Smith System's legendary Flavors® chair and Theorem® chair.
Let's dive into, well, the numbers. What directive did Smith System® give you?
We were charged with designing an affordable K­­–12 chair that would provide unparalleled performance and visual subtlety. Paired with the Numbers™ desk, the duo delivers on quality and versatility. It sets a new benchmark.
Describe "a new benchmark."
The suite has a compact, sleek look that suits students of all ages, and that streamlines the ordering process for schools. The chair design, in particular, is practical, yet quite sophisticated, thanks to blow-molding technology.
Is blow-molding what makes the chair comfortable, yet also super strong?
Yes. Without getting too techy... blow molding allows variable thickness in the chair's shell, so the front and back can have different roles. The front promotes comfort and 360-degree seating. The back is about durability. The steel frame is actually nestled into the seatpan.
Say more about the chair's comfort.
We followed a more organic design to boost comfort. The Numbers™ seat is fairly flat, with soft edges around the perimeter and a waterfall front, so students can easily turn around or within the chair. It works with, rather than against, them.
Explain the global appeal of Numbers™.
Numbers™ is Smith System's first product suite designed to meet K–12 classroom furniture requirements for size, safety conformance and durability of three global markets: The Americas, Asia-Pacific and EMA (Europe, the Middle East and Africa).
Is that why the chair prototype was initially called the "World Chair"?
Yes. Early on, we held design charettes with our experts around the world. After presenting initial sketches for feedback, Radar developed prototypes to meet the global standards. The chair heights range from 10 to 18 inches for U.S. standards, and Euro 1 to 6 (ages 3 to 18).
What makes Numbers™ Desk a good companion to Numbers™ Chair?
The desk has a similar presence to the chairs and covers the same stability requirements of international test standards. It's versatile, too. The initial offering comes in five different shapes, with adjustable height (19 to 30 inches) and inner leg tubes that can flip between glides or casters.
Out of curiosity, do you sketch ideas by hand or go right to the computer?
We start sketching by hand. Once we get the unique character down, we move to CAD. But we'll still move back and forth, often drawing over the complex 3-D CAD printouts to refine things like a chair's lumbar support and hand holds.
Classroom space can be tight. What's the "stack geometry" of Numbers™?
The chairs include dual durometer bumpers in the cover plate to act as skid-like runners. That removes the stress from stacked chairs and allows students, even little ones, to stack chairs loosely. Blow molding prevents paint damage. The desks are also designed for slide-on stacking, three or four at a time.
Sustainability wise, how does Numbers™ add up?
It's impressive. A 100% recyclable polypropylene chair shell, a 100% recyclable chair frame and desk frame in steel with powder-paint finish. All elements are held together with mechanical fastenings, allowing ease of maintenance and disassembly for recycling at the end of the product lifespan.
You've been developing award-winning products – including several for Smith System® – for over 35 years. In school furniture, what matters most to K–12 students?
In our opinion, products that are safe, comfortable and moveable, while not being 'prescriptive.' Meaning, the products don't dictate exact use. For example, chairs should provide a good seating position for desk-based work, but with a degree of freedom of movement, wiggle room and fidgeting.
 What matters most to teachers?
 Furniture that can assist in focusing an active child in the classroom activity, be easily moved and reassembled by students into groupings or for solo tasks, and furniture that is safe, quiet and easily managed.
How has COVID altered school furniture design?
 It's sped up the transition to more multi-functional spaces and more flexible teaching methods to accommodate hybrid learning. It's likely that physical areas that can't be duplicated either outside or at home (such as labs) will be fixed areas in schools. All other areas will need to adapt for flexible student numbers and a wider range of activities. The use of outdoor space will continue to grow.
Thanks, Roger and David. This has been an enlightening conversation.