How to Choose Early Childhood Furniture for PreK Classrooms
As research proves the benefits of early childhood education, there's a push for more states to require PreK programs. Educators can prepare now by learning how to create engaging environments for little learners. It begins with choosing high-quality early childhood classroom furniture.
Little Kids are Primed for Big Learning
Let's begin with an intriguing thought: If intelligence is defined as the ability to learn, children between the ages of 2 and 7 may be the most intelligent humans on the planet.
The Edutopia article titled, "Why Ages 2­­–7 Matter So Much for Brain Development," explains how children's brains develop in spurts called "critical periods." The first occurs around age 2 and concludes around age 7, with a second one occurring during adolescence. At the start of these periods, the number of connections (synapses) between brain cells (neurons) doubles.
This first period of brain development is particularly critical. It provides a golden opportunity to lay the foundation for a holistic education for children. Four ways to maximize this critical period include encouraging a love of learning, focusing on breadth instead of depth, paying attention to emotional intelligence, and not treating young children's education as merely a precursor to "real" learning.
Is There a Difference Between Preschool and PreK? Yes! 
How the PreK classroom is furnished includes a lot of nuance to meet specific learning goals. For this blog, we're focused on how to select classroom furniture for pre-kindergarten (PreK) classrooms, not preschool. They are not the same.
Preschool programs typically serve children between 2 and 4 years old, while PreK is usually reserved for 4- and 5-year-olds. Both preschool and PreK have school readiness as a focus in their programs. But the curriculum is different.
Preschool is heavily focused on play. The PreK curriculum is designed to get kids ready for kindergarten, through academic and social emotional learning (SEL), and fun activities that strengthen fine motor skills. Activities also emphasize helping students develop foundational knowledge in literacy, math, writing, science and more. Students are given plenty of opportunities to interaction and collaborate with others, too.
Research Shows the Benefits of PreK Education
The National Institute for Early Childhood Research says that research has overwhelmingly found that children benefit from attending PreK. They are better prepared for school, less likely to be held back, demonstrate better cognitive and language skills in kindergarten, and have fewer behavior problems in the classroom.
Tennessee's targeted PreK program is a solid example of how PreK can boost school readiness. An ongoing independent evaluation has found that during the year before kindergarten, PreK children develop literacy, language and math skills faster than non-participating children. Gains made by PreK children are 37 to 176% greater than those of non-PreK children and persist into the elementary grades.
When they begin kindergarten, PreK children are rated more highly than their peers on teachers' assessments of overall school readiness, too.
5 Tips for Selecting Early Childhood Classroom Furniture
So, how does this information influence choosing PreK classroom furniture? The right furniture sets the stage to launch profound early learning by cuing students thoughts, feelings and actions. The furniture defines the space and figuratively speaks to students.
For example, a carpet square for circle time conveys a more relaxed vibe. A comfortable, right-sized student chair and collaborative activity table, says, "It's time to calm your body, quiet your voice, and focus on the instructions or task ahead."
At Smith System, we know that young students are especially sensitive to their environment. Here's what we tell schools to consider when selecting PreK student chairs, tables and storage designed to welcome students and support busy teachers.
PreK Furniture Size: Scale to Students' World
There's a lot more to effective early childhood school furniture than simply scaling-down elementary classroom furniture. PreK kids are still developing confidence in controlling their bodies. They need to feel stable and supported. In short (pun intended), chairs should be right-sized so students' feet touch the floor when they sit. Table height should allow their arms to naturally rest for fine-motor work.
For PreK students, classroom chair height should be 12 inches and classroom table height about 22 inches. At the kindergarten level, chair height changes to an equal mix of 12-inch chairs and 14-inch chairs. Kindergarten table height is an equal mix of 22- and 24-inch heights. See Smith System's Classroom Furniture Height Guide.
PreK Seating: Mix it up. Keep it comfy.
Most kids in PreK have very pliable bodies. They like to sit (or straddle, spread out, bounce, etc.) in the most creative ways. It's fun! That's why it's so important to give them options for traditional and nontraditional classroom seating.
Smith's Flavors® Stack Chair is a four-position school chair that allows the student to sit comfortably facing front, either side or rear. A flexible seat back contains, but doesn't restrict, fidgeting. In fact, more movement encourages the student to be alert and happy, by assuring that they are both mentally and physically comfortable.
For nontraditional seating, consider Smith's Oodle® stool. The basic Oodle features three cylinder-shaped components, each 17 inches in diameter and 6.5 inches high.
Educators can set them up for use individually or assist students in stacking them higher. Additionally, by simply flipping a separate, floor-facing disc insert 180 degrees, students can sit still (the insert's flat side) or enjoy 10 degrees of multidirectional rocking motion (the insert's convex side).
PreK Tables: Soft Curves and Angles
 Shape, another design element of early childhood furniture, can subtly communicate familiarity and comfort to students. Activity tables with soft curves and gentle angles are welcoming to tender ages.
Smith System offers a full suite of table options in various fun, yet highly functional, shapes. Many feature fixed-height with glide, fixed-height with caster, or adjustable-height. Consider the Elemental® Horseshoe Table, the Elemental® 5-Star Table (accommodates five students) or the Elemental® 6-Star Table (accommodates six students).
There's also the Elemental® Kidney Table or the playful Interchange® Cookie Table. It has a versatile shape that can be used as a single "cookie" table or joined with other "cookies" for a larger collaborative space.
PreK Storage: Cubbies Corral the Clutter
Keeping the PreK classroom organized is a must for teacher sanity and student safety. In addition, an organized classroom helps students focus as they learn better self-control, physically and mentally.
Having a durable, kid-friendly system can both maximize storage and make cleaning-up part of the curriculum. Smith's mobile Cascade® Cubby, especially the six-compartment unit, offers a low, open-shelf layout that students can easily reach. Scalable and flexible, Cascade Cubbies are a comprehensive classroom shelving solution for any learning environment.
PreK Furniture Color: Bright Without Bombarding
 There's an art to choosing color in PreK classrooms. It can be a powerful design principle, in positive and negative ways, setting the mood and defining spaces. While the temptation may be to fill a PreK space with brightly colored furniture, think through the entire classroom design, including its contents, too. Brightly colored student artwork, manipulatives and books can create a busy backdrop.
Some schools choose a neutral background for PreK classrooms, with a few well-chosen accent colors in table edges and legs, and chair finishes and shell colors. Smith System offers a vast spectrum of colors to complement classroom design goals.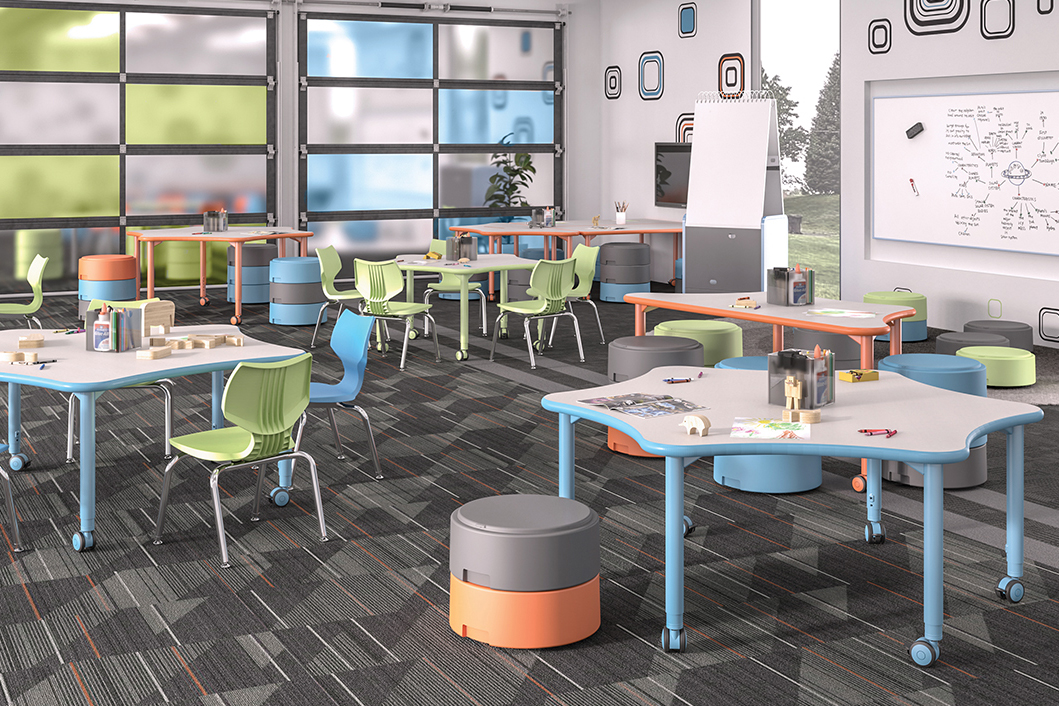 PreK Furniture Quality: Durable for Little Doers
Kids of the PreK age are still learning how to control their bodies. Coordination, size and strength vary widely, which can make students hard on their surroundings.
When choosing new furnishings for your early educational environment, go for quality and check the warranty. Many manufacturers offer a one-year limited warranty. Smith System offers a lifetime warranty on frames and legs and a 12-year warranty on tables and desktops. For details, see Smith System® Limited Lifetime Warranty.
Set the Stage for High-Quality PreK Learning with High-Quality PreK Furniture
Choosing high quality furniture for early childhood education classroom doesn't automatically equate to a high-quality learning experience. But the right PreK student chairs, desks and storage can set the stage to foster a love of learning in a safe, comfortable, engaging space. That goes a long way to creating a more level playing field for all early learners. (FYI: How School Classroom Furniture Can Improve Student Learning.)
To prepare for upcoming PreK mandates in your community, contact Smith System today. We inspire the PreK–12 classroom experience with innovative school classroom furniture built for learning.
Resources
 https://abcearlylearning.com/preschool-vs-pre-kindergarten-similarities-and-differences
https://www.edutopia.org/article/why-ages-2-7-matter-so-much-brain-development
https://nieer.org/wp-content/uploads/2021/08/YB2020_Executive_Summary_080521.pdf
https://outscholar.com/is-preschool-required-heres-what-the-law-says/
https://www.route-fifty.com/health-human-services/2021/11/cost-states-expand-free-pre-k-under-biden-plan/186722/
http://www.urbanchildinstitute.org/resources/policy-briefs/pre-k-matters