Stress Less: Create a School Calm Room Students Want to Visit
We all need to blow off steam. But for K–12 students with already low resiliency, it can feel scary, like an open fire hydrant. School Calm Rooms help students slow the flow.
Calm Rooms are important social-emotional learning (SEL) environments where students can cool down and learn how to self-regulate their bodies and emotions. That's a big help for a nation of exhausted teachers, too, who need more positive tools for struggling kids and teens.
This blog explains what Calm Rooms are (and aren't). We share how these spaces work and how schools can create their own sanctuaries. That includes choosing the right Calm Room furniture to foster the "chill." Schools may even want to consider a similar space for staff.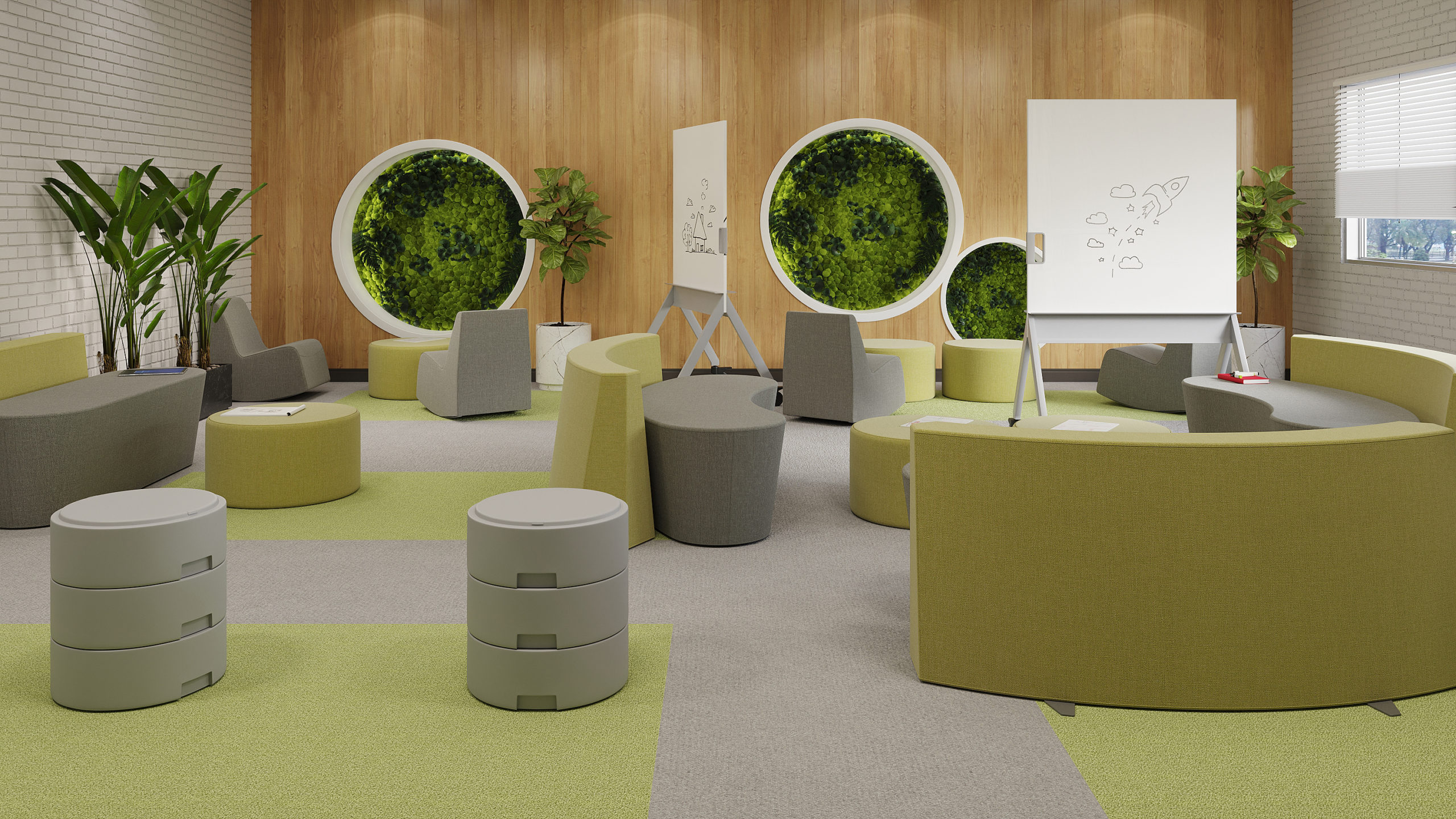 Many Names; Same Goal
Schools give these spaces different labels: Calm Room, Calming Room, Calm Corner, Peace Space, Be Brave Room, etc. But their intention is similar. A Calm Room provides a quiet, comfortable space for students to reset when they're feeling anxious, angry or overwhelmed.
The nonprofit MindPeace describes Calm Rooms as a safe place for teachers to send a student who needs to de-escalate.
"Calm Rooms teach students calming techniques to decrease agitation, aggressiveness, irritation, sadness, etc. This gives them the chance to calm themselves before trying to process the cause of their actions/misbehavior."
Educate Students on Using The Space
Calm Rooms are not meant as hang-out spots for friends who coordinate meet-up times (eh-hem, bathrooms). Calm Rooms are also not punishment. They shouldn't trigger negative stigma, such as being sent to the principal's office or a "time-out."
The space is for individual students to process intense feelings. Ideally, a student visits a Calm Room as healthy self-intervention to preempt escalating. Schools should explain the room's benefits, purpose, tools and rules.
In March, 2022, The New York Times interviewed a group of teens about high school today. The article, "12 Teens on What Adults Don't Get," included this comment by one 17-year-old.
"Sometimes the counselors or teachers are not always the most understanding. They don't give you ways to help manage stress. You just have to figure it out on your own."
Within the first weeks of school, have the school counselor lead students on a Calm Room orientation. Educate students on using coping tools in the room.
Equally important, don't assume kids know when to use the Calm Rooms; emotional intelligence varies wildly by age and individuals. Teach students how to identify personal warning signs on when to ask permission for the Calm Room ­– and when to ask for more help than the space can offer. Safety is paramount.
How Visits Work
Most student visits to a Calm Room are short, just 5 to 10 minutes, before the student returns to the classroom. There's a reason for that.
Pete Nadler is an assistant principal for a public high school in Illinois. He said his school's Calming Room prevents a student from simply "eloping" from learning. When a problem arises for a student, they can ask to leave class. The student then scans-in or signs-in at the Calming Room, and the supervisor caps visits at 10 minutes.
"The biggest thing," said Nadler, "is to convey that it's okay for students to have negative emotions, process those feelings, and return to class." He acknowledges that some students can't. If so, the Calming Room supervisor refers those students to the Student Services office.
(TIP: Schools may want to replace language such as "negative emotions" or "acting out," with more neutral terms, like "intense feelings" or "big feelings.")
What Calm Rooms Should Offer
Here are the key aspects of a Calm Room:
They're safe (emotionally and physically)
The space should be supervised by an adult and private. The latter is a big deal, according to one high school teacher in Ohio.
"We have a Commons Area in our school, and that's a great place for students to hang-out ... [but] it would be great if our school had a space that was more private ... A space where you turn off your phone, disconnect, and know that if you are in that room, you are in a safe place to be yourself, and maybe talk to others openly."
They're relaxing
Reduce stimulation in the room. Consider low-key visual, auditory and tactile stimuli, with no technology. That said, some schools let students have a say in the room's contents. For example, some Calm Rooms include art supplies or mobile white boards for doodling, exercise equipment, head phones for music, or even gaming devices.
They're comfortable
This one's a given. Students should instantly relax into the space to relieve stress. Furniture and overall aesthetics set that tone ... more on that below.
They provide tools and strategies
Many kids don't know how to regulate their emotions. Or maybe they did, and then COVID hit. Or hormones, family loss or trauma rocked a student's resiliency. Educate students on how to use Calm Rooms.
What Science Says: Change Does a Body Good
Psychological research supports the benefits of "Be Calm" rooms. For young students, hormonal changes (and much more) can increase aggression, and social-emotional skills are still developing. That can affect higher-order thinking, like problem solving and self-control.
A change in environment, such as going to a Calm Room, can decrease anxiety and allow the student to calm down without feeling isolated from their class. The pandemic has certainly accelerated the need.
Miguel Cardona, the current U.S. Secretary of Education, recently said on NPR, "We cannot go back to the way things were before the pandemic. We must seize this moment to make things better for all students."
How To Furnish a Calm Room
An ideal Calm Room provides relief, so physical design – from lounge furniture to soft lighting – is critical. It conveys how much a school values its students' SEL. Schools want to attract students to these spaces.
Michaela Towne, a Spanish teacher and supervisor at her high school's Calming Room, agrees. "It's a lot more calming and nice to have the sofa and comfortable chairs than the hard desks ... the lighting and the furniture definitely contribute to making it more relaxing."
Consider providing:
Comfortable seating options
This is the biggest request from educators setting up these spaces.
Students feel more empowered if they can control their seating position – height, movement, softness and location. Smith System's upholstered Flowform® benches, rockers and ottomans are ideal for Calm Rooms. Students like the casual, organic shapes they quickly move position.
If schools want a tad more traditional seating, the multi-position Flavors® Noodle Chair is a good choice. It encourages students (especially fidgeters) to follow their natural movement instincts, with a seat pan that allows a slight tilt. The chair provides the benefits of stability ball seating – engaging core muscles, better posture and breathing –with better back support and comfort.
Active seating that can rock or sway
Many students, especially kinesthetic learners, find that some degree of movement calms them. Smith System's Oodle® stool is another great option for Calm Rooms.
The basic Oodle® features three cylinder-shaped, stackable components, each 17 inches in diameter and 6.5 inches high. By simply flipping a separate, floor-facing disc insert 180 degrees, students can sit still (the insert's flat side) or enjoy 10 degrees of multidirectional wobble.
Tactile fabrics or surfaces
There's a reason why upholstered furniture and plush accessories thrived during the pandemic. Will we ever go back? Calm Rooms should include comforting fabrics and natural finishes. Also consider biophilic elements, like plants.
Soft, calming colors
Calm Rooms are not the place for bold primary colors or busy patterns, even if users are elementary school students. Smith System offers a variety of modern, soothing color choices, with names like Apple (soft green), Cerulean (soothing blue), Platinum (medium gray), or Tuscan (a relaxing rust).
What About Tables?
Work surfaces often encourage just that: work. We suggest limiting tables that students might use for laptops or homework. Instead, use Flowform® ottomans as coffee tables or Flowform® stools as end tables for students who need a surface for art projects.