Shown Model #017091 SLV in the 'open' position.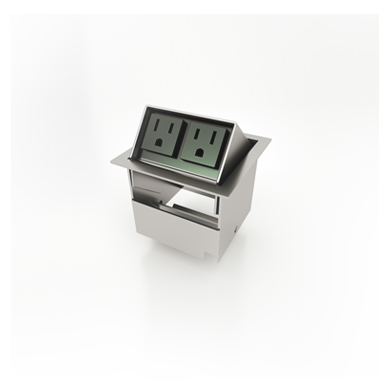 Product Resources
Retractable Mini Power Module
The 017091 Power Module is mounted in the work surface and is retractable when not in use. Power access remains open during use and can be retracted into work surface with one finger. The Power Module is UL listed with a standard 10ft 15 amp power cord. The unit is installed in a 3.4″ x 3.4″ cutout in the work surface and secured using two screws on each side of the housing. The housing is constructed of 15-gauge steel and fits in tops 3/4″ to 1-1/4″ thick.
Specifications
| Model | Description | D x W x H |
| --- | --- | --- |
| 017091 SLV | Retractable Mini Power Module 2PWR | 3.7" x 3.7" x 1.17" |
Placeholder